<-- Go back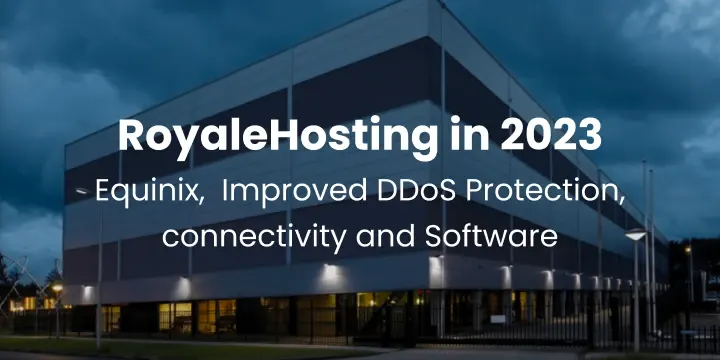 RoyaleHosting in 2023: Equinix, Improved DDoS Protection, Connectivity and Software
Published at Dec 31 2022
---
It's hard to believe, but RoyaleHosting is turning 5 years old! We've come a long way since our humble beginnings, and we couldn't have done it without your support. We have lots of exciting things planned for 2023 and we want to talk about each one in this article.
5 Years of RoyaleHosting
As we celebrate our 5th anniversary at RoyaleHosting, we reflect on the journey that led us to where we are today. When we first started, our goal was to revolutionize the hosting industry by providing reliable and affordable services for all. However, we quickly realized that the providers we were relying on could not meet the high standards of reliability and performance that we desired for our customers.
In response, we made the decision to build our own network and infrastructure, paving the way for us to offer the best possible service to our valued customers. Along the way, we faced many challenges and obstacles, but we persevered and were able to overcome them.
Today, we are proud to say that our dedication to providing top-quality hosting services has paid off, however we are far from done. We have many exciting things planned for the future, and we can't wait to share them with you!
Equinix
We are pleased to announce that at the start of 2023, we will be relocating all of our servers in the Netherlands to Equinix AM5, the world's leading provider of data center services. This move will allow us to greatly improve the reliability and performance of our hosting services.
In the past, we have faced many challenges with our previous data center provider that have limited our capabilities. With Equinix, we will be able to overcome the limitations of our previous data center and significantly increase the reliability of our services.
We will do everything we can to minimize any potential disruptions during the transition period, there will soon be a followup announcement regarding more information about this move which will include a timeframe and all the other information regarding this move, this announcement will come 30 days before the datacenter migration. If you have any questions or concerns, please don't hesitate to contact our support team.
DDoS Protection
Moving to equinix will also allow us to rebuild our core network infrastructure that will include a better way to mitigate DDoS attacks with lower latency and higher accuracy. This will also result in better logging and more options for our customers to mitigate DDoS attacks. We will be working hard to expand the functionality of the firewall panel as well as we're slowly moving to the 1.0 version of the panel.
Future Projects
New site

As we're working to modernize our entire infrastructure we want to modernize the way to interact with your services as well. This is why we're working on a complete redesign of the website from the ground up, with a fresh new look and a more intuitive user interface. We're also adding a number of new features and functionality to make it easier for you to manage your services and access the resources you need with direct integrations into the firewall panel and other future software.

More pop locations

We've received a lot of requests to offer services at more locations, that is why we are expanding our network to include even more POP locations around the world. In the next year, we will be opening new datacenter locations in Brussels, Frankfurt, Los Angeles, and Singapore to better serve our global customer base. These new locations will allow us to offer lower latency and higher performance for our hosting services, and we are confident that they will be a valuable addition to our network. While we are excited to bring these new locations online, we do not have an ETA at this time for when they will be fully operational. We will provide updates as they become available and appreciate your patience as we work to bring these new datacenters online.

Dedicated Panel

We are working on a brand new dedicated server panel that will be releasing in the coming months. Our previous dedicated server panel did not meet the high standards of user experience that we strive for, and we are dedicated to improving it. The new panel will be completely redesigned and will offer a range of new features and functionality to make managing your dedicated server easier and more efficient. With this new panel, we will be able to instantly deliver dedicated servers to our customers, providing a seamless and convenient experience. We are confident that this new panel will be a valuable resource for our dedicated server customers and will provide a much-improved user experience.

Colocation Panel

We are excited to announce the upcoming launch of our new colocation panel, which will provide our colocation customers with unparalleled control and monitoring of their services. With this new panel, colocation customers will be able to manage their racks, including monitoring temperature and power usage, as well as access a range of networking features and monitoring tools. We believe that this new panel will be a valuable resource for our colocation customers and will provide an exceptional user experience. We will be releasing the new colocation panel in the coming months together with the dedicated server panel, and we can't wait for our customers to try it out.
We want to extend a heartfelt thank you to all of our valued customers for your continued support and loyalty. We couldn't have gotten this far without you, and we are grateful to have you as a part of our community.
As we look to the future, we are excited about the growth and potential of our company. We are dedicated to continuously improving and expanding our services to provide the best possible hosting experience for our customers.
Thank you again for choosing RoyaleHosting. We look forward to continuing to serve you with the highest level of service and support in the years to come. Here's to an even brighter future for our company and for all of our customers.